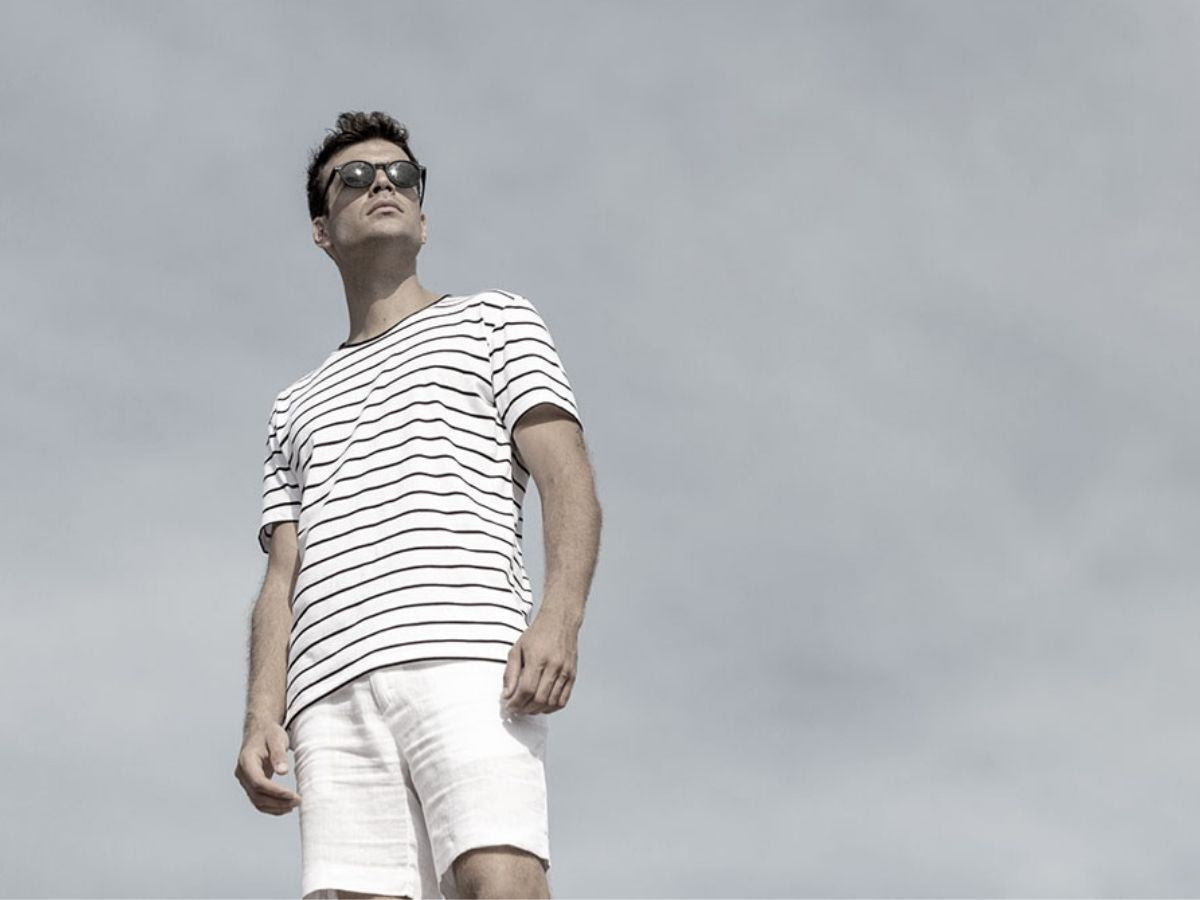 Where to find
Our founder, Leigh, a fashion stylist, has spent years sourcing great men's T-Shirts. The T-Shirt has remained a constant favourite of hers throughout the years for the men she styles, and they never just want one! Once you've found 'the one', then nothing makes you happier than buying it in all colours, year after year. Leigh says if she had a dollar for every time a customer said: "Yup, this t-shirt is great. I'll take it in all the colours," she'd be retired by now with a Negroni in her hand! 

If you want to add a few new tees to your wardrobe, you've come to the right place. We've designed and curated five of the best t-shirts in our Life by the Blonde Voyage Capsule based on the countless brands we've personally tested or bought over the years. Not too long, not too short and with a relaxed feel, the versatility of the Life by the Blonde tees will satisfy all your T-Shirt needs. 
We've done the leg work
During the design process at Life by the Blonde, we put our T-Shirts through numerous wash tests and wash cycles, several tests for fading and pilling, and counted over 10 measurements to prevent shrinking and ensure they can withstand constant washing and wearing.
Whether you're lounging around, off to see friends or dressing it up with a
linen blazer
for evening aperitifs, you'll find the Life by the Blonde tees have been created to cover all events. From crew neck to our
Montserrat v-neck,
Pima cotton to our knitted linen. If you're unsure of the size which will fit you best, check the Life by the Blonde size chart for more details.
The Life by the Blonde T-shirts
The Life by the Blonde Voyage Capsule consists of everything you'll need to see you through any summer sojourn. We have included three classic round neck t-shirts in the capsule, one elegant Montserrat V-neck in Pima cotton and two Mustique round necks in knitted linen. Aside from the quality, the variety of easy to wear colours make these tees a great option for any man's wardrobe.

We have featured your favourite colours – a winning and versatile combination of black, white, caramel, navy and a timeless Breton stripe. There is something for everyone, and we've chosen colours that will complement outfits and existing pieces in your wardrobe rather than shades that are tricky to pull off.  We've also incorporated simple yet elegant labelling and grey neck tape to give every T-shirt a more luxurious finish. At Life by the Blonde, we're not dictated by fashions trends, so these classic colours will stand the test of time in your wardrobe for years to come.

The fabrics at Life by the Blonde, We have selected only superior fabrics for you.


Pima cotton
If you haven't heard of Pima cotton, you should now make it part of your fashion vocabulary. Made up of longer fibres than cotton, it is an ultra-soft fabric, which not only feels amazing but keeps its shape and colour far better than regular cotton. We selected the finest quality Pima Cotton for four out of five of our designs in the Capsule because it is superior cotton with natural breath-ability, which ensures longevity, softness and colour fastness. We use authentic Pima cotton sourced in Peru and woven and spun in Europe to ensure this is the finest cotton, making the very best t-shirts for you.


Knitted linen - inspired by a first date
You may not have heard of knitted linen before, but once you've worn our
Mustique linen knitted T-Shirt,
there is no going back. Its inspiration came from an unlikely source. Sitting opposite a first date in the South of France, our founder's date had a beautiful mid blue T-Shirt on, which matched his eyes beautifully. However, it wasn't too long before the sweat patches started to appear! It got them giggling, and it got Leigh thinking…
Our
knitted linen t-shirts
are manufactured the same way as traditional cotton jersey t-shirts; the only difference is that we knit in linen yarn and not cotton. This makes them a little more elegant than your standard tee, are lighter than air to wear and keep you super cool, no matter how hot the date might get! 
As a customer once said: "Linen knit to T-Shirts is what cashmere is to wool." 
Woven in Italy, the fabric is perfectly soft on the skin and so light that it almost feels as if you're wearing nothing at all. It's perfect for humid climates and looks effortless and elegant when worn under a blazer. 
Meet your team of hard-working T-shirts
Martinique round neck T-shirt – Pima cotton
A deluxe and versatile essential to any modern-day man's wardrobe, the Life by the Blonde Martinique T-Shirt is everything you need a wardrobe staple to be; comfortable, durable and massively versatile. It has a slightly relaxed fit that makes it especially comfortable to wear. 

It is so versatile, and we've provided three colours – Lovina Beach Black, Oyster White and channel your inner Riviera with our classic Black and White Breton stripe.
Montserrat V-neck T-shirt
If you prefer a V-neck, our Montserrat V-Neck has all the same great features as Martinique. Montserrat is also made in Pima cotton and essentially has the classic, relaxed shape as Martinique but offers a subtle twist with the V-neck option. It works brilliantly on its own or under our Havana Blazer. This elegant French Navy T-Shirt will give you a refined silhouette, even on relaxed escapes and in easy to wear French Navy, and you'll be turning heads for all the right reasons.

The Life by the Blonde Montserrat V-Neck – from breakfast on the boulevard to cocktails at sunset.


Mustique linen round neck T-shirt – Caramel Sand
Finally, this is our favourite t-shirt and we're happy to bet it'll be your future favourite t-shirt too. Our round neck Mustique t-shirt has the same great shape as our Martinique, but knitted using linen so it's a little more elegant and also feels lighter than air. This is super comfortable the first time you put it on, but it is even softer and more comfortable the more you wear it. Your new favourite t-shirt is a deluxe and versatile essential. 

At Life by the Blonde, we love quality fabrics and our Mustique knitted linen t-shirt comes in delicious Caramel Sand and also in Oyster White which complements the rest of the Capsule perfectly. It's a summer essential that offers both casual and sophisticated options and it is lightweight, soft and flattering.