3 Easy lounging looks for men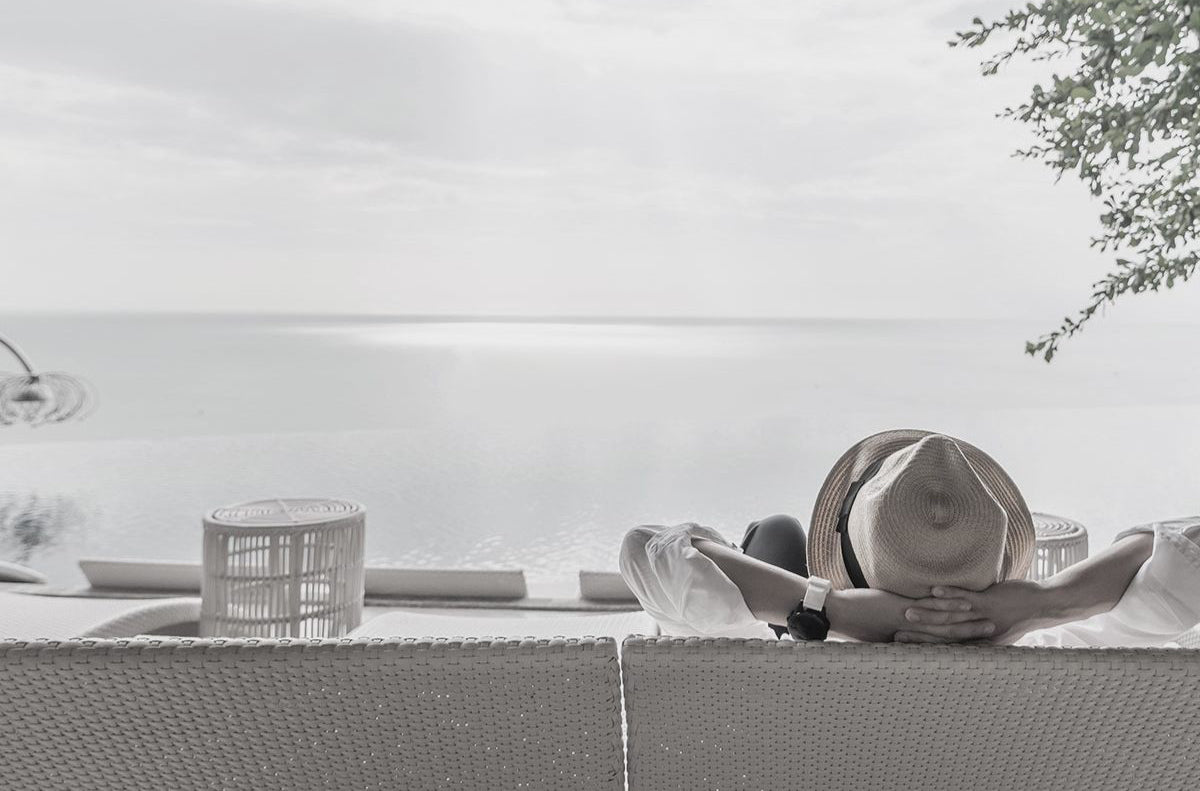 Colour code
To start things off - colours. Fans of Life by the Blonde will understand this. The last thing you need to face on a lazy Sunday morning is a barrage of colourful clothes and various patterns and prints – none of which you are sure to go together.
We believe an easy way to negotiate a wardrobe is to make sure it is filled with a collection of separates in subtle hues that all sing in harmony together – one less decision to be made before the caffeine's kicked in.
 
Luxe lounge lizard
A super-easy look for the luxe lounge lizard involves casually throwing a linen shirt over a simple t-shirt and popping on a pair of linen shorts.

The t-shirt can be tucked in or worn outside the shorts, and shorts kept where they should be using a daytime fabric woven belt or lightweight suede version.
 
Leave the shirt buttons undone, and the sleeves rolled up for a super-relaxed look and feel. The shirt adds an extra layer if a slight chill is in the air and, if you are carrying a little extra weight around your middle, then a loose shirt over your t-shirt helps cover up any unwanted bulges.
Look 2 - Back to basics

It doesn't get much simpler than shorts and a t-shirt! You still want to look considered and stylish with this combination, so best to ditch the comedy slogan t-shirts and stick to plain, block colours and classic stripes. Be cool, cosmopolitan guy; don't be a terrible logo t-shirt guy.
T-shirts can get a lot of use, so it's worth investing in the best quality available.


Perfect summer tees

The Life by the Blonde selection of Pima cotton and linen knit t-shirts brings a lightness to your life, helping you retain your cool wandering the streets of Sicily, as well as keeping you warmly layered under a sweater for crisp days exploring the streets of Copenhagen.
Pima cotton is soft to the touch and feels like a massage on the skin.
 
The Life by the Blonde tees have been designed to accompany you on all of life's great journeys – retaining their softness, colour and breathability.

If you haven't heard of Pima cotton, you should now make it part of your fashion vocabulary. Made up of longer fibres, it is an ultra-soft fabric, which not only feels amazing but keeps its shape and colour far better than regular cotton. So, wash after wash, season after season, it will stay in shape, keep its colour and keep you looking good, which is always a good thing.

Our Mustique linen knit T-Shirts are a smarter alternative to Pima Cotton and are a firm favourite at Club 826. As one of our clients once said: "Linen knit is to t-shirts what Cashmere is to wool". Linen isn't a fabric you would normally associate with a t-shirt, but there is no going back once you have worn one. Woven in Italy, the fabric is perfectly soft on the skin and so light that it almost feels like you're wearing nothing at all. It's perfect for humid climates and looks effortlessly elegant. Pair with our Rio linen shorts for head-to-toe breezy suavity.

Perefect summer shorts

For perfect everyday style, nothing says summer chic more than soft, white linen shorts. Our Rio tailored summer shorts, created in lightweight linen, are the ultimate summer shorts.  Pair them with any of our tees and let the stories unfold. They're versatile enough to take you from breakfast on the boulevard to poolside espresso. Team with our white Martinique linen tee, and you're heading for toes in the sand; phone on flight mode territory.
 
Finish your simple ensemble off with fresh white sneakers, classic espadrilles or a pair of suede loafers. Pack the flip flops for the beach adventures.
Look 3 - The simple life

If trousers are the order of the day, then you can't go far wrong with a classic pair of lightweight summer chinos – a design classic that lends itself beautifully to so many occasions. Chinos are the easiest trouser to dress up or down, but for easy lounging, we suggest rolling up the hems a fold or two and keep them snug on your hips with a light-coloured belt.

So many brands have these design classics in their collections – Life by the Blonde included. We have designed our Casablanca chino in a versatile stone/grey, which works well with pretty much everything. Chinos can be found in myriad colours, so you may want to invest in several colours. All we ask is this: if they've faded in the glorious sunshine, then time to invest in a new fresh pair.

Team with a simple fine knit polo. Our Saint Martin polo is an easy-going classic. It's versatile, light and has a lovely laid-back look and feel. Rather than the heaviness associated with polo shirts, wearing our fine linen knit polo quickly gets you ready for a lazy Mediterranean interlude on a sun drunk day.
 

Now that we have that sorted, all you need to do is relax, have fun and enjoy life.