A guide to getting smart casual right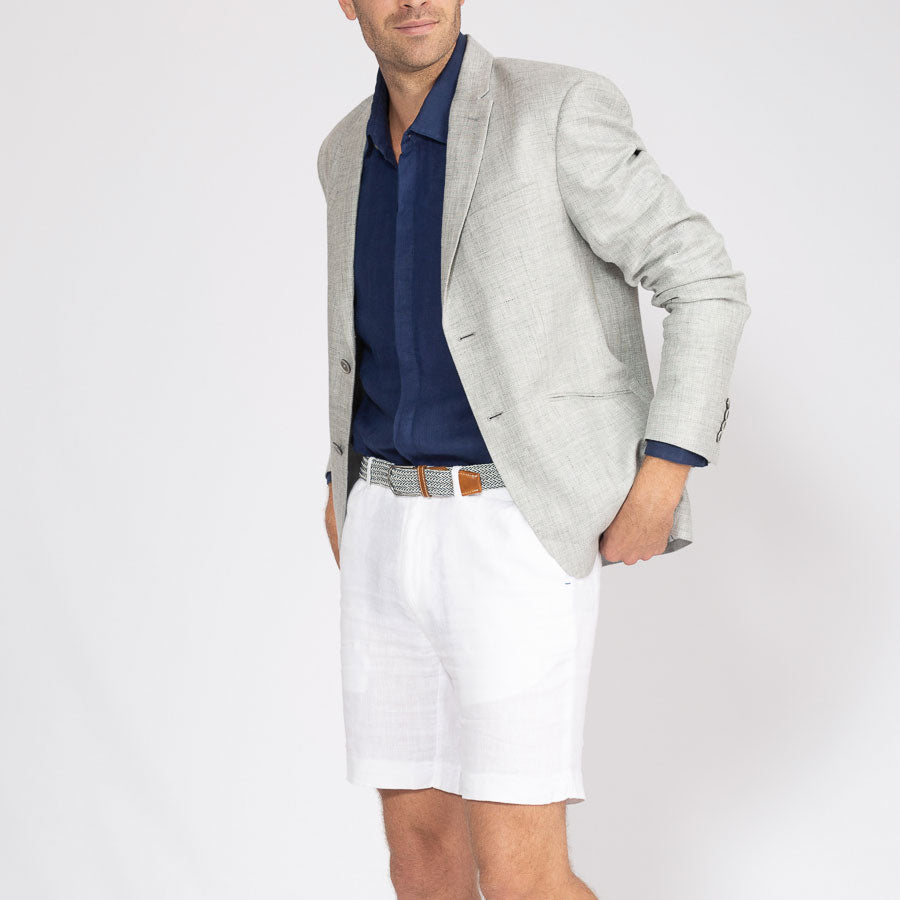 Long sleeved shirt & shorts

The trick here is to make sure you match your top and bottom style – keep smart with smart and casual tops teamed with casual bottoms. Make sure there is enough contrast in colour to some degree to avoid running the risk of trying to look like you're wearing a playsuit!

We'd suggest leaving a button or two undone on the Antigua linen shirt, rolling your sleeves up slightly, and tucking your shirt into your shorts. Another option is to wear a t-shirt and leave the shirt open for a more casual, free and easy look.

This pairing works with almost every style of footwear you can think of – we'd team it with white sneakers, tan loafers, tan sandals or a tassel loafer for a smarter look.

The Life by the Blonde Voyage Capsule – everything you need for summer.


Lightweight suit separates

A summer suit can be limiting, so it's more practical and versatile to buy suit separates, which maximizes your wardrobe's versatility and enables you to create outfits that give greater flexibility. Our classic Havana linen blazer that can be worn either smart or more casually is a good investment for the summer.

Whether you opt for a linen-mix blazer, a pair of tailored summer linen shorts in a lightweight twill or some design classic cotton chinos, snapping up tailoring that you can mix and match is the easiest way to navigate the hotter months and still look smart.

Seeing as you'll likely want these to work just as well together as apart, it's best to stick to versatile summer-appropriate hues such as white, navy, stone, grey and summer light blues. The Havana single-breasted blazer is the effortless Life by the Blonde solution.


Shorts & Blazer

We know it might seem like questionable logic to suggest throwing on a jacket if it's warm enough to wear shorts, but if the right style of the blazer is selected, this combination is one of the sharpest around. A perfect combination when you need to be smart, but it's just too darn hot for trousers.

First up, prioritise lightweight fabrics when shopping for the perfect jacket. Unlined linen, cotton and linen-cotton blends come highly recommended for their breathability and their laid-back feel.

Secondly, colours are key with this one. If you're going down a more casual route, try adding a bold hue into the mix – a bright red pair of tailored shorts or a blazer, for example. If you'd rather steer smart, err a little more conservative by combining timeless neutrals such as black, navy, white, grey and beige.

Linen shirt & Blazer

An Antigua linen shirt (or five) is up there as a summer style essential on the list of sartorial essentials every man should own.  A simple linen shirt is a summer wardrobe essential, the hero piece every man should include in his warm-weather wardrobe. Stay cool whilst still look sharp in a soft linen shirt. Sitting comfortably between tailored and relaxed, our Antigua linen shirts are chic, elegant with natural breathability and have the ability to take you from day to evening with effortless ease.

The good news is this means there is a style every gent can get on board with. Long sleeve, short-sleeved, fitted, relaxed fit or opt for a Grandad collar. Want to keep the cut or collar classic? Make a statement with a print instead. Whatever style you opt for, don't forget to get to include all summer shades in your collection. Linen works brilliantly well in all colours. We have 4 easy to wear shades in the Voyage capsule - French Navy, Oyster White, Bahama Pink Sand, Sky Blue.
 
Team your linen shirt with an equally cool lightweight Havana blazer to take you elegantly through all summer occasions. Roll the sleeves upon both for a more casual look and wear with shorts and white sneakers or add our Casablanca chinos and loafers for a smarter look. From the Marina to The Martinez, our Antigua linen shirts are the epitome of relaxed summer style.