How to dress smart casual in summer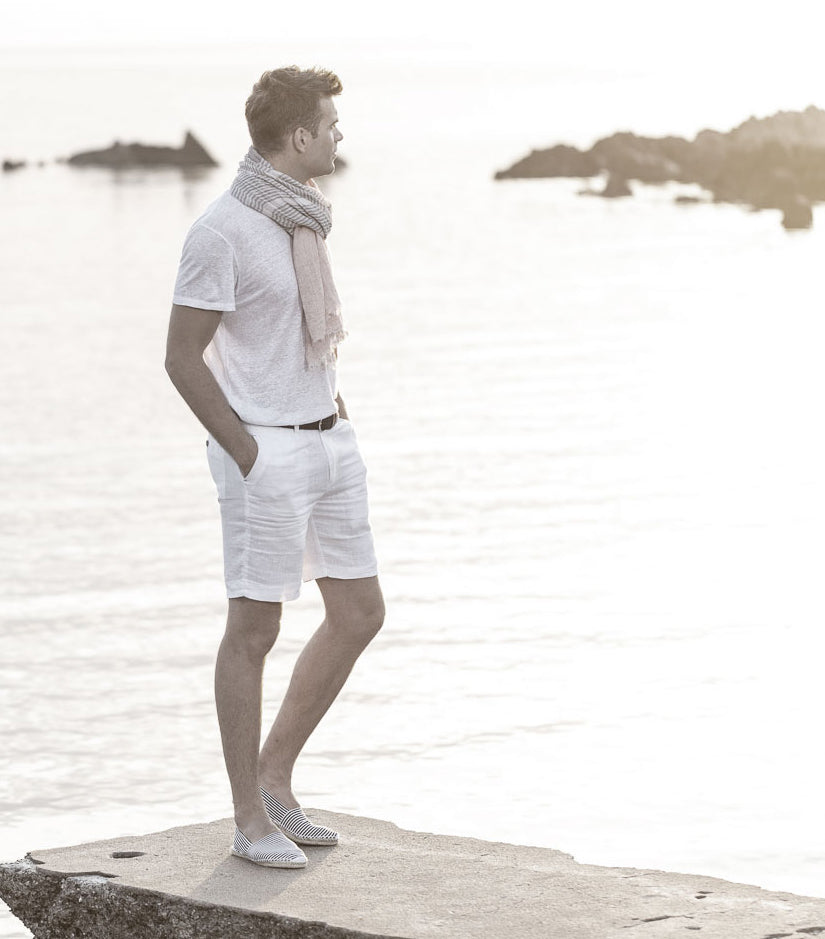 Summer night out


It doesn't matter what you're up to, really; even if it's just watching the sun go down on beautiful balmy evenings, you'll still want to look put together.
Try the classic and favourite team of chinos and a top-quality t-shirt. Throw over a lightweight linen blazer to smarten up and fend off any breeze, and you're good to go – rather more considered than resorting to combat shorts and flip-flops!

Holiday smart casual

Jetting off to sunnier climes allows you to liven up your normal weekend looks. Perhaps pastel hues of pink and baby blue wouldn't be your usual choice for a weekend chill session, but when in Rome…
With those sun-kissed limbs, it's time to experiment with some more summery shirt colours.
 
By opting for Rio tailored linen short paired with a colourful, breathable linen-shirt in Bahama Pink Sand and finished with white sneakers, a woven belt and your Ray-Bans, you can effortlessly tackle high temperatures in high style. The Life by the Blonde  Voyage Capsule contains the iconic Antigua linen shirt in the summer hues of Oyster White, Bahama Pink Sand, French Navy and Sky Blue.


Summer wedding

Summer weddings are the perfect place to showcase a bit of sartorial flair (don't upstage the groom!).
A linen blazer and chinos or a complete linen suit are astute choices.

Linen regulates body temperature and allows your skin to breathe so that it will not stick to you in places you wish it didn't. Combining it with a whiter than white Antigua linen shirt and smart tasselled loafers will ensure no guest will be able to resist your allure.

Show your sartorial flair by adding a colourful pocket square, coloured deck shoes or tasselled loafers, a Panama hat, or even go all out with a baby blue linen suit. This will set off your tan to perfection.
Our perfect summer wedding outfit would be - The Life by the Blonde Havana Blazer, Casablanca chinos and our Sky Blue Antigua linen shirt.

A pastel suede loafer and matching pocket square complete the look.


Summer work event

Your style dilemma here is this: you don't want to rock up looking so smart that it's clear you've just come from the office; neither do you want to look too casual so that it appears you're seconds away from going for a dip in the nearest pool.

The most flexible choice here is some carefully chosen separates.

By this, we mean avoiding suits and choosing separate tops and bottoms.  For example, choose chinos and a fine knit linen polo shirt or tailored shorts and linen shirts for a more casual gathering.  

Always take your lightweight linen blazer along to smarten things up, even if it's just for arrival and departure. Separate tops and bottoms will avoid you looking as if you're in a work suit. If you are rocking the summer shorts, make sure they are linen, well pressed and teamed with an Antigua linen shirt to add a smarter vibe.

Smart white trainers or loafers are the order of the day.  Leave gym trainers and flip flops at home to avoid you being gossiped about at the photocopy machine for all the wrong reasons.

A day at the races

Few other events in the summer calendar require you to get suited and booted like a day at the races than summer weddings; dress codes vary but have relaxed over the years, so top hats and tails are not always required.
 
This is your chance to show your flair with a smart coloured linen suit, colourful shirts, pocket squares or floral adornments. It's your chance to experiment with colour.