6 Key holiday pieces for men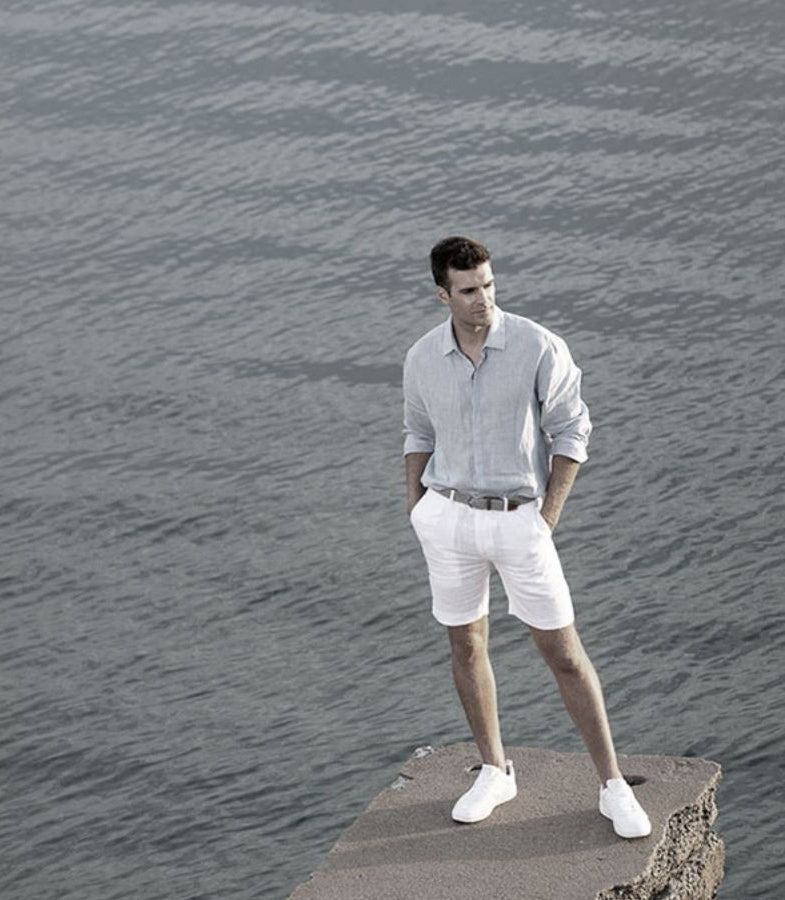 A Little preparation

Don't wait until the week before flying, or worse still, a last-minute dash around the airport shops to stock up on summer sartorial essentials. Whether it's a winter sun break in the glorious Caribbean or a quick hop down to the French Riviera, these 6 pieces will ensure you have all escapes to the sun sorted.

Sadly, when it comes to holiday dressing, few nations have a reputation as bad as the Brits. Socks and sandals, ridiculously baggy board shorts and flip-flops in the city? Guilty as charged.
At Life by the Blonde, we aim to help you become less OMG and a lot more ooh la la. Do your bit to restore our battered sartorial reputation abroad this summer by investing in these six key holiday pieces that will get plenty of wear. Whether in Greece or Gozo, restore your sartorial mojo and be prepared for all summer adventures.
 
1 The summer linen blazer

Getting the summer blazer right, and you will have an amazingly versatile piece in your repertoire that will take you from smart to casual and everything in between.
Wear with the sleeves rolled up and some dapper linen shorts and a linen knit t-shirt for a casual yet elegant look to take you from a summer day picnic under the palm trees, an art gallery or drinks with friends. Keep the look casual by pairing it with bright white sneakers or your favourite boat shoes.
Keep the sleeves down and team with a classic linen shirt for those wanting to take it up a notch. Some tasselled loafers and a tan leather belt will mean you won't look perfectly at home having aperitifs on a superyacht.

Keep it softly tailored and opt for an unlined or cotton lining as this will feel fresher in hotter weather.
Our Havana blazer is the ultimate summer blazer, naturally charismatic and softly tailored.  Just like the entire Life by the Blonde collection, our summer blazer is crafted from two core materials: cotton and linen, making it breathable and light. Lined in the body in super lightweight cotton ensures that it's breathable and comfortable for warm weather; a perfect option for days in the sun with effortless ease. Woven in Italy in a soft grey, it oozes a sense of craft and quality. Thrown on effortlessly, this blazer has the versatility to transform an outfit, taking you from the marina to The Martinez. The breast pocket allows you to pop in a pocket square. Try a patterned silk option for the final stylish touch to an evening look or a smart solid colour linen pocket square for a daytime event.


2 Breton tops & classic striped t-shirts

Take your style tips from the French to avoid dressing like a cliché this summer. If French style to you means a beret, baguette and a comedy moustache, aim for a notch down on the scale to arrive at chic Riviera style with a classic Breton top.
Fashion doesn't get more egalitarian than a classic stripy top.  It's the true uniform of every man, from the prisoner to navvy, to beatnik artiste; from rough to royal via Jackie Onassis and Jean Seberg.
Teamed with white shorts or lightweight chinos, a Breton top can create a Riviera-inspired look even if you're dropping the kids off at school. It's an easy piece to throw a blazer or linen bomber jacket over in the cooler evenings or even a linen shirt during the day; there's not much you can do to get this wrong.
For me, its longevity is in its simplicity, ease and effortless style. It doesn't try to look stylish, which means it invariably does. A classic Breton looks right on everyone, regardless of who you are, your age, colour or gender. Check out the Life by the Blonde Martinique in black and white stripes to channel your inner St Tropez this summer.

 
3 Linen shirt

Men, can you feel the allure you project when floating around the Mediterranean in your ever so cool Antigua linen shirt? It's a style classic and will see you through any occasion.Again, a super versatile piece that prides itself on keeping its wearers cool and delightfully sweat-free.
A simple linen shirt is a summer wardrobe essential, the hero piece every man should include in his warm-weather wardrobe. Stay cool whilst still look sharp in our Life by the Blonde Antigua soft linen shirts. Our Antigua lightweight linen shirts sit comfortably between tailored and relaxed and are chic, elegant with natural breathability. They have the ability to take you from day to evening with effortless ease.

Short sleeve, long sleeve or even a grandad collar will work well and offer an effortless solution on what to wear this summer.

Life by the Blonde introduces a short sleeve camp collar in linen twill for our next release, and designs for a grandad style collar are well underway. You spoke; we listened.
As for what to wear on the lower deck, you'll be hard-pressed to beat design classic chinos in white, beige or light greys. A summer palette of linen shirts in white, blues, corals and pinks will see you through the summer.


4 White T-shirt

The humble white T-shirt is a solid throw-on-and-go wardrobe staple in any time zone. But while it's a piece that goes with arguably anything, anywhere, it does take on new meanings in sunnier climes.

Harness your inner Steve McQueen, who famously made holiday all-white look like an absolute no-brainer.
There are endless ways to wear a white T-shirt. Pop it under a classic linen blazer, throw a linen shirt over the top or break it up with a neutral cardigan or bomber over the top.

Whilst most t-shirt is made from traditional knitted jerseys, why not opt for a knitted linen version? Our Mustique white linen is our favourite t-shirt in the Club 826 collection as it feels lighter than air, reduces the unavoidable sweating we have to consider in sunnier climes, washes and wears brilliantly and is just that little bit more sophisticated and chicer than its knitted jersey counterpart. Please give it a go and thank us later.

If a linen t-shirt is not your favourite t-shirt by the end of your holidays, we'll eat our Panama Hat!


5 Panama hat

Talking of Panama hats… given that a holiday in the sun is practically one of the only times you're guaranteed to require a hat of sorts, you might as well make a conscious effort not to look like a prat while wearing one. The perfect complement for a classic t-shirt, shirt and trouser outfit is a superfine Panama hat in a classic white.

Swerve the obvious baseball cap and instead go for something that doesn't scream package holiday. Aim for more Frank Sinatra, less Frank Gallagher, basically.

One of those people who are eternally hat shy? Go for a smaller trilby style, which is perfect for adding a stylish vibe to any outfit. Modern-day Rat Pack vibes are sorted.

6 Polo shirt

Few other menswear items have the same ability to be as much of a style statement as the polo shirt.
Transport yourself to the glamorous Riviera of the '50s and '60s to nail movie star cool in our Saint Martin linen knit polo shirt. An easy-going classic with great versatility, you can't go far wrong with a polo shirt in soft knitted linen. Build your smart-casual looks around a classic polo shirt and wear with everything from turned up chinos to under a linen blazer—a comfortable, versatile and reliable addition to your summer wardrobe.

This naturally breathable vintage polo is perfect for strolls on the beach. Team this with our Casablanca linen chinos, add some retro sunglasses, and you have the ultimate hot day outfit.