A few things you didn't know about Life by the Blonde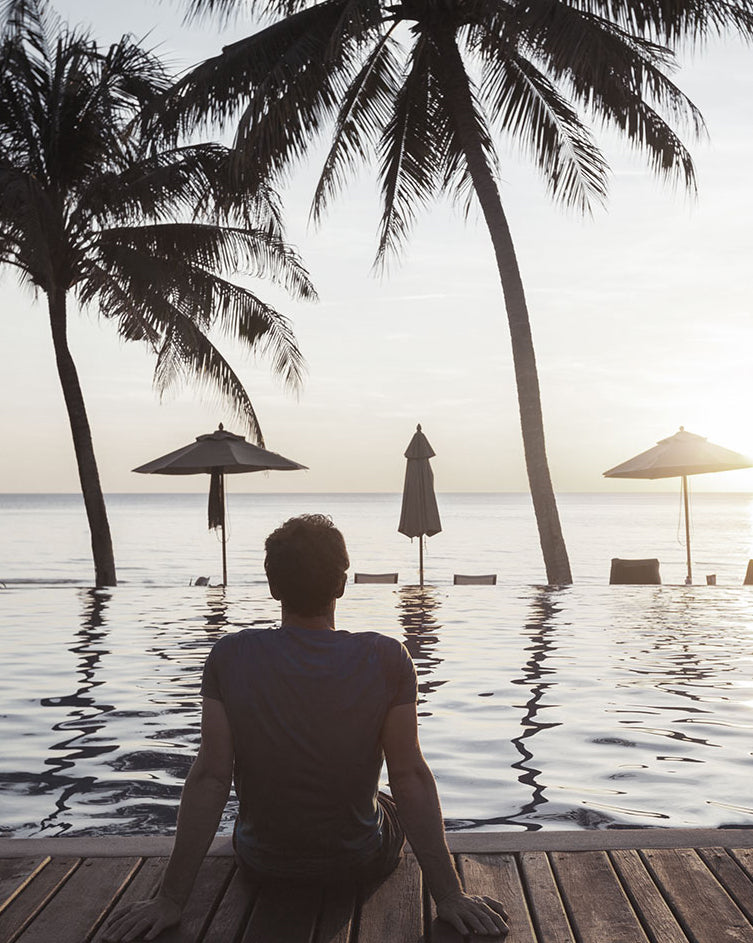 Whose idea was this?
There's a Negroni loving woman at the helm. Life by the Blonde founder, Leigh Millar, is the real-life female eye for the modern guy: helping busy men live stylishly. With a career spanning 25 years over three continents in high-end interior design and 10 years in fashion styling, Leigh knows a thing or two about making things look good. Her vision was to create a suitcase-ready collection of mix and match pieces made from the world's finest linens and cotton that could be purchased as a simple, seasonal capsule where every shape, colour and fabric coordinated beautifully.

She spotted a gap in the market for a stunning quality clothing brand teamed with a far simpler shopping experience. She created a collection that allowed discerning men to make fewer, better, more stylish choices and have an enjoyable shopping experience that actually tunes into how they prefer to shop for clothes.

A little knowledge goes a long way
Life by the Blonde was born from Leigh's understanding of how men like to shop for clothes. Men prefer the process to be as fast and easy as possible, without compromising on style. In fact, the average time men spend browsing for clothes online is just 8.26 minutes; our mission was to makes these minutes count.

Armed with that knowledge, Leigh started Life by the Blonde for the modern-day man: the man who nurtures his career, family, and wanderlust in equal measure. Ultimately, Life by the Blondeis for the man who knows what he wants from his look but doesn't have the time to achieve it. We create limited-edition capsules of between 10 - 14 beautifully made, easy to wear, versatile pieces for our customers. Our idea is that they will have everything they need in this capsule to take them effortlessly and stylishly from breakfast on the boulevard to aperitifs on the French Riviera and every adventure in between - great quality pieces that they could easily wear throughout the whole summer.
How men shop
During Leigh's research into men's online shopping habits, she discovered that men spend on average 8.26 minutes browsing for clothes online more often than not, leaving unsatisfied as choice overwhelm sets in. It became Leigh's goal to create an easy to wear and easy to buy capsule where all 14 pieces could be purchased in this time! The site has been specifically designed with this customer journey in mind. So, 14 pieces can be transformed into 110 different outfits (yes, we've done the maths!), so we consider 8.26 minutes a pretty great investment of time. We want our customers to be spending life living and having fun in the clothes and not spending time buying them.
Changing times
Most of you probably haven't considered shopping for clothes in the Life by the Blonde way or even thought about how this capsule concept even came to be.
The world is changing. How people live, work, travel, play and shop is evolving. It's easier and faster with people now living life on their own terms, and the situations in which we all find ourselves throughout the course of a day, week or month can be many and varied.

The Life by the Blonde clothing collection has been created for the modern-day Renaissance man. He's the man who lives in a world where now, more than ever, he's expected to hold down a hugely rewarding and successful job, have a profitable side hustle, raise a well-adjusted family, have a full and fascinating social life, an investment portfolio, go on fabulous holidays, save the world, have the health of an elite athlete, be a fully present partner, lover, friend and boss and still be home in time to put the kids to bed without so much as a hair out of place. He's your everyday hero who, despite what his day throws at him, always has to be sartorially 'on the money.

Like our man, we wanted to create a collection of clothing that had his traits and qualities. He's elegant, cosmopolitan, adaptable, considered and versatile. We are a community of sun-loving 'sartorialists' coming together to live an effortlessly stylish way of life.

Our collections enable our customers to feel cool, proud, sexy and smart; brand ambassadors who are 'in on the secret.'
The Capsule collection
We take for granted how often men find it difficult or time-consuming to choose how to dress in the morning. We think our way of purchasing clothes provides a solution. Our Life by the Blonde members have active lives, constantly on the move and doing different things each day. We designed and created pieces to work hard in our clients' wardrobes offering great versatility and superior quality. We design our garments as individual items but merchandise them as looks, so you're not just buying pieces; you're buying ensembles.
Each Life by the Blonde
Capsule
features between 10- 14 cosmopolitan items. Life by the Blonde feels that each one, and the varied combinations, offers a simple, unimpeachable wardrobe that would work for our modern-day Renaissance man. A real solution for busy, modern men will allow them to get on with their lives without the daily challenge of what to wear and how to put things together.
We're an elegant fashion life-hack that's about luxury and simplicity.

Style inspiration
The style influence of the Life by the Blonde
Collection
comes from the effortless and impeccable summer style of men of '50s and '60s Havana, the charisma of gentlemen in the Hampton's and the sartorial allure of men in Italy and the South of France – think JFK and Marilyn hanging out in Palm Springs, Jude Law in The Talented Mr Ripley and Pablo Picasso simply being Pablo. The question is this. If these style icons were all around today, what would they be wearing?
We are inspired by loose tailoring, light, breathable linens and the tranquillity of a seaside colour palette; timeless summer attire and swimwear that is perfect for the beach and beyond, highlighting our love of summer fun. With modern, chic, easy layering options, you will look breezy and suave from head to toe, a true master in the art of St Tropez living.
The collection pieces are named after our travel destinations; places where we've loved, laughed and had adventures or destinations where future adventures have still to be discovered, whether it's the elegant, coastal charm of St Tropez or the romance of the city of Casablanca.
Life by the Blonde pieces will never go out of style. Life by the Blonde doesn't follow fashion or colour trends. We don't design fashion – we design versatile clothes for lovely lifestyles.
We've created a capsule collection that takes much of the thought process out of the daily headache for men of what to wear each morning – a collection that can take them from morning macchiato to evening aperitif. It's specifically curated for them and their lifestyles, which gives our customers great flexibility to create a complete and comprehensive summer wardrobe designed for any occasion.

Supreme quality and exclusivity
To ensure superior quality, all Life by the Blonde garments are manufactured in Portugal, the home of the best craftsmanship and production in Europe, giving easy access to the finest European fabrics and accessories. All of our Capsules are strictly limited-edition. Once they are gone, they are gone! We offer each new Capsule on a pre-sell basis to previous customers and subscribers before they are offered to the public. Previous Life by the Blonde customers and founder members will automatically be given that opportunity so they don't miss out.

Like all great ideas, Life by the Blonde capsule collections offer a simple solution to a time consuming and sometimes annoying problem.

Life by the Blonde directly addresses the recurring challenges of men shopping for clothes. They don't know where to shop or have the time to do it. They don't know what to buy specifically, how to put it all together, or how to dress for particular occasions. Life by the Blonde allows our modern-day Renaissance man to make confident clothing choices with our elegantly packaged, thoughtfully curated, beautifully detailed 'wardrobes' of clothes.

Creating wardrobes for your wanderlust.