Men's Riviera style guide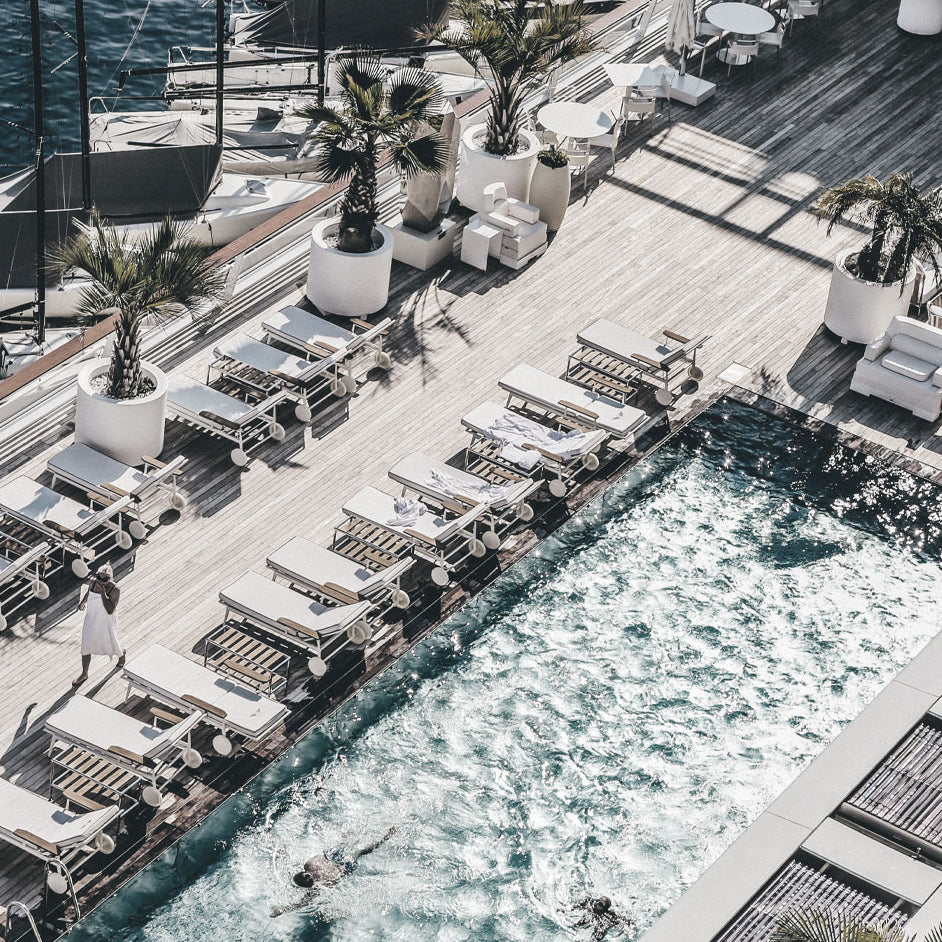 From the 1920s onward, Europe's most affluent flocked in their droves to cities like Nice, Marseilles and Cannes, as well as Portofino and San Remo on the Italian equivalent. Riviera style itself began to translate European elegance for a hotter-than-average locale where daily activities included little more than sunbathing and maybe some yachting for those feeling energetic. While fashion has changed over the years, the fundamentals of men's Riviera style have remained the same.

Of course, you don't just have to be on the Côte d'Azur to channel this simple, laid-back style. It's been a huge inspiration for the Life by the Blonde capsules, so whether you're keen to cut a debonair figure on the coast or recreate a little of the Riviera back home, here's what you need to know.

Life by the Blonde have all you need in Voyage Capsule

The Palette

At the core of the Riviera palette, you'll find light neutrals like white, beige, stone, tan and grey, all of which, helpfully, look their best in sunny weather and combine easily with most other hues while keeping you cool by reflecting rather than absorbing light.

For interest, nautical reds and blues are worth adding, as are pastels like turquoise, sky blue, pale yellow, pink and lavender, which provide the perfect accents to a low-key base.
The Polo Shirt
The polo shirt is an indisputable Riviera must-own. Coming collared – unlike a T-shirt – it protects your neck from exposure to direct sunlight while providing a solution to looking refined in the heat.
The Polo shirt
The polo shirt is an indisputable Riviera must-own. Coming collared – unlike a T-shirt – it protects your neck from exposure to direct sunlight while providing a solution to looking refined in the heat.
Transport yourself to the glamorous Riviera of the '50s and '60s to nail movie star cool in the Life by the Blonde Saint Martin fine linen knit polo shirt. An easy-going classic with great versatility. Build your smart-casual looks around this classic polo shirt and wear it with everything from turned up chinos to under a linen blazer. A comfortable, versatile and reliable addition to your summer wardrobe. Super light and breezy and head-turning cool.

Find your Saint Martin linen knit polo in the Club 826 Voyage Capsule.

Traditional cotton pique styles are unarguably classic and will serve you well for years to come. Alternatively, keep an eye out for unusual textures, which hark back to the mid-century style icons who first made the destination famous, and towelling, which is especially useful for wear post-swim.
The Breton top

There are few items of clothing as quintessentially French as the Breton striped top. Once the uniform for all French navy seaman in Brittany – each with 21 stripes to mark Napoleon's victories – now a year-round wardrobe workhorse on any soil (or sea).
You'll find plenty of long and short-sleeved T-shirt versions on the market; choose a lightweight cotton example featuring navy, black or red stripes to enhance your summer wardrobe.
Whether or not you plan on boating, this maritime staple lends any Riviera get-up some understated nautical charm. However, to avoid looking like you've set sail for a fancy dress party, steer clear of pairing it with items like, you know, a sailor hat. Instead, keep the rest of the look simple, with crisp, bright white hues on your lower deck. The Life by the Blonde black and white Martinique T-shirt can be found stylishly lounging in the Voyage Capsule.

The Breton Bites back – more Breton news can be found here.


Lightweight, unstructured tailoring

A few pieces of lightweight, unstructured tailoring pieces will allow you to look sharp without the need to accessorize with a sweat towel.
A lightweight cotton/linen mix blazer is a great wardrobe addition. It's here that fabric choice becomes extremely important. Lightweight cotton, linen and blends of each all make for sound summertime tailoring, being breathable and easy to wear.
To maximize ventilation without skimping on style, look for a cut that's slim enough to flatter your form but not so restrictive as to compromise the airflow. We designed our Life by the Blonde Havana Blazer in French Grey to do just this. It's the hero piece in our Voyage Capsule. We have also lined it with lightweight cotton to ensure a lighter, cooler feel.
Tailored shorts and chinos

Denim shorts might be an acceptable choice for a night out in Tenerife, but this stretch of the Mediterranean coast requires something a little more sophisticated.
Well-cut shorts (ending just above the knee, slightly tapered through the thigh) will save you from looking sloppy when you need to bare your legs. A similarly cut pair of chinos (either cropped or rolled at the ankle to show off your sockless look) is also a smart choice to master Riviera chic.
Fabrics like cotton and linen are our preferred choice. To maximise the mixing-and-matching potential, you should keep colour choice conservative (think white, grey or navy). However, if that's not a concern, opt for a pastel shade.

Check out the Life by the Blonde Casablanca Chinos and Rio Oyster White linen shorts to master your Riviera cool expertly.
Footwear

Although the only way to do the beach is barefoot for optimal Riviera insouciance, there will be times when you'll need to cover up on the shore (especially if you're hitting the pebbles in Nice!)
Classic leather sandals in black or brown work well, teaming effortlessly with the rest of a Riviera wardrobe, while espadrilles offer a good alternative for men who don't rate sandals but still want to keep things relaxed and refined.
For bar-hopping or grabbing a bite to eat, sub in a timeless pair of tassel loafers or driving shoes, preferably in suede, for an additional flush of luxury that'll mark you apart.

Finishing touches

No Riviera look can ever truly be considered complete without a few judiciously styled debonair touches.
Given that even the glitterati would deem ties to be unnecessary in the summer heat, swap yours out for a silk pocket square placed neatly in your blazer's breast pocket. Or if that leaves your neck feeling naked, sub in a loosely knotted neckerchief to fill the void.
Other worthwhile additions include a straw fedora or Panama hat (partly for instant style points, partly for sun coverage) and a pair of Clubmaster sunglasses to add that final polish.
Shop the Life by the Blonde Voyage Capsule for all your Riviera looks.