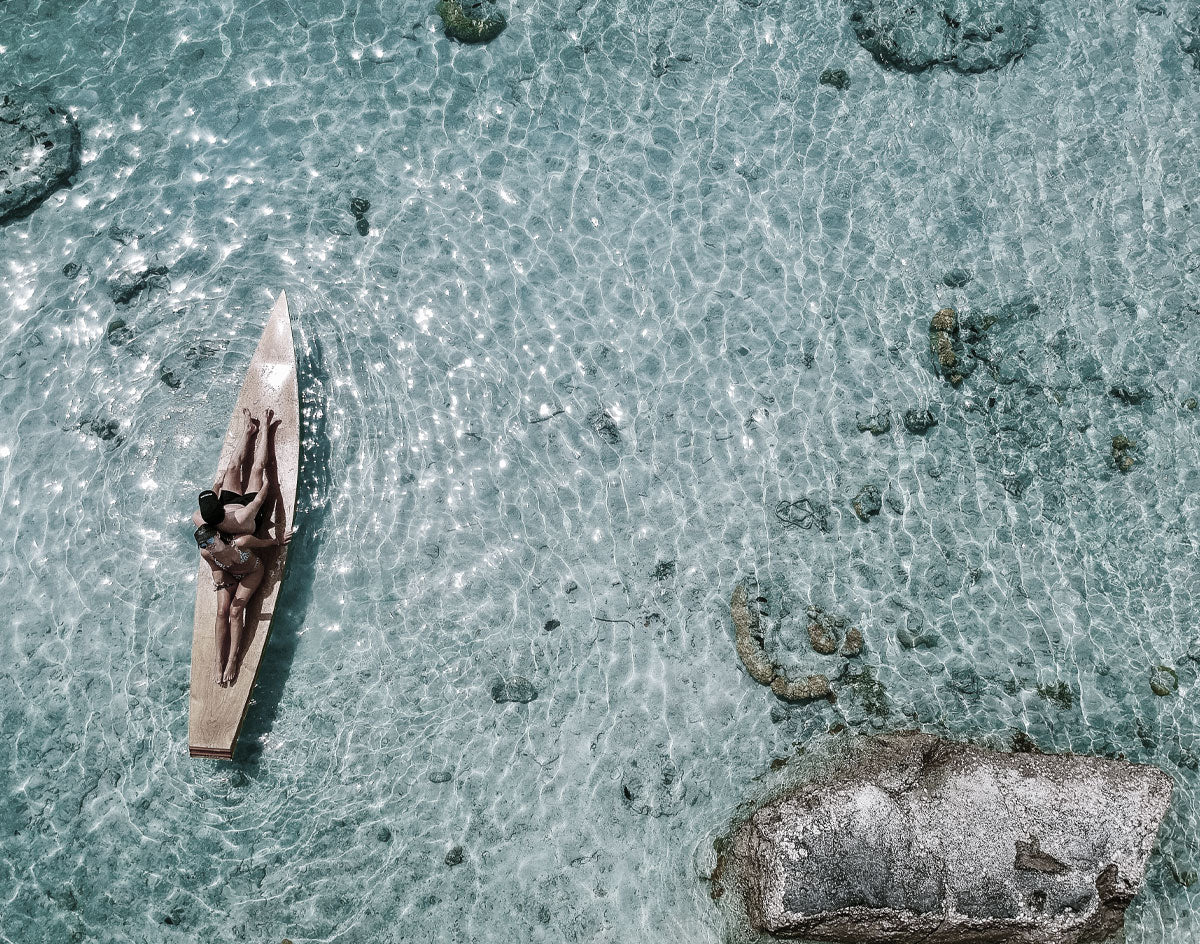 At Life by the Blonde we strive to make the best clothes we can, not the most. Our limited-edition capsules are produced in small quantities. We like to offer each new capsule to purchase at a private pre-order event before we release the capsule to the general public for existing customers and subscribers. Not only does it reward our loyal customers, but it also ensures we have very little wastage; we only want to produce what we need to ensure we avoid holding any excess inventory.

Pre-selling helps us determine the sizing and discover the most popular colours so we don't waste fabrics, dye, buttons, thread and zips. We are very aware of the overconsumption involved in fashion, so we do what we can to reduce wastage. Due to the handmade nature of our product, we prefer to use fewer weaving mills and suppliers, and we are very tight on the fabric quantities we order.

Who we work with is important to us. We look for suppliers who share similar business values and ethics, from sustainability, environmental impact to how our suppliers treat staff.

A large majority of our fabrics are woven in Italy by Tessuti di Sondrio. They create the most wonderful linen fabrics for us and have worked tirelessly for several years to make sustainability the heart of their business.

Here is their sustainability story and why we love to work with them.

Heart for Earth - The Tessuti di Sondrio sustainability story
In 1895 Tessuti di Sondrio began producing cotton and linen fabrics for the luxury clothing market and today are considered one of the finest fabric producing companies in the world.
Many years ago, they embarked on a path of Corporate Social Responsibility with a daily commitment to the values they share with their collaborators – values around work, passion, efficiency and responsibility towards the world we live in.

For the environment
Tessuti di Sondrio is ISO 14001 certified, an international standard that certifies the requirements of an environmental management system by providing a framework for integrating environmental protection practices into a company to prevent pollution, to reduce the total amount of waste, energy and material consumption.

In 2018, Tessuti di Sondrio completed the ICT4 Green Fashion project. This provides continuous monitoring of all energy carriers to allow an "energy efficiency balance" to international standards. The sensors allow them to gauge various consumptions and better direct resources to save energy and help identify future investments.

Green energy Photovoltaic system
Tessuti di Sondrio chose to cover the entire roof (all 1732 m2) of their factory with solar panels to produce green energy, which now produces 89% of the energy required to run their factory.

Less Methane
The process of textile finishing involves the use of hot water. This water is taken cold from the wells and then heated using methane, a precious source of energy, which instead of being eliminated
at the end of processing. They are now recovering 20.6% of required methane, and it's improving year on year.

Less water
They look continuously at investing in processing cycles and machinery with lower water consumption and revisit the plant's water systems to reduce their water. For each 1 kg of fabric produce this year, they have reduced water consumption by nearly 20%.

Less waste
Plans have been implemented to reduce waste production in favour of recycling.
Last year they recycled 83% of waste production, meaning only 17% went to landfills.

Fumes scrubber
Located in the beautiful region of Lombardy, Tessuti di Sondrio already complied with the threshold limits set by the Italian region. Still, they installed a second fume scrubber to limit the impact of oil mists and improve the balance of VOCs emitted into the atmosphere, to ensure that the beautiful landscape is not harmed.

Chemical products
Any chemicals they for textile manufacturing comply with the international ZDHC (Zero Discharge of Hazardous Chemicals) protocol. This protocol limits harmful toxic substances that can be contained in a product and guarantees complete traceability of processes.

They are also members of the Italian body "Tessile Salute" that issues eco-toxicological certification to accredit compliance with these protocols.

Raw material
They strive to continually increase our environmental awareness and responsibility, which is why they have joined the Better Cotton Initiative certification. This program aims to create a production chain of high-sustainability cotton that operates in Pakistan, India and Brazil, and promote the cultivation methods that are less dangerous to the health of farmers whilst being more environmentally friendly.

The virtuous linen
The synergy that Tessuti di Sondrio has woven with the historic Linificio e Canapificio Nazionale in Villa D'Almè in Bergamo and the French agricultural cooperative Terre de Lin has led to the creation of a line of totally traceable and controlled textiles. This path starts from the selection of seeds, scattered along the coasts of Northern Normandy, which are then spun into yarn in the competent district of Bergamo and lastly sent to Valtellina, to Tessuti di Sondrio company, for the design.

Creativity
Like Life by the Blonde, Tessuti di Sondrio believes that creativity and artisan know-how are values that deserve respect and support. This is especially the case with young people. Not only because we want the emerging creative talents of today to populate our company of tomorrow, but also because without creativity, both our stories would never have been written in the first place, let alone continue to be written every day. Tessuti di Sondrio participate in the Marzotto Group project.

This project looks for designers who, for 6 months, have free rein to experiment, letting a newly graduated designer's imagination run wild at their product and production department. They have also entered a collaboration with the Fashion Design Course of the IUAV University in Venice, including a pure art project with Fondazione Pistoletto. We are looking forward to seeing the new graduates work in future Life by the Blonde collections!

Community
Community is important to us at Life by the Blonde. We seek to build a community with not only our customers but also with our suppliers.

Tessuti works a lot on projects within the local community and supports various activities, like the "Mobilità garantita" project in the city of Sondrio. They contributed towards the purchase of a specially fitted vehicle for disabled and elderly passengers. They also cooperate with the no-profit association Skartoria, which supports women through fabric creativity and the "Alternanza Scuola Lavoro" project with local high schools.

Recently a series of open door "Open Factory" days were held in collaboration with Confindustria, Italy Post and the newspaper Il Corriere della Sera, which gave more than 300 people a chance to visit their facilities from the Sondrio area and beyond, involving employees, family members and local institutions. It's an awe-inspiring effort, and they continue to improve and adapt as new technologies and systems are developed. We are looking forward to more time in their factory soon!